Personal Injury Law Experts
So you've been in an accident – now what?
Being involved in an accident can be a stressful, confusing time. You may be suffering from a significant injury that is keeping you off work, or receiving costly ongoing treatment for long-term pain or impairment.
Queensland law recognises your right to recover damages (i.e. compensation) where you have suffered a personal injury and a consequential loss as a result of someone else's fault or negligence.
Why Choose QLD Law Group?
NO-WIN NO-FEE – AND NO DISBURSEMENTS!
Unlike many other personal injury lawyers, our No-Win No-Fee service includes disbursements, so you won't be hassled along the way to pay for medical reports or other outlays.
DEAL WITH LAWYERS FROM START TO FINISH
Larger firms will often have you dealing with numerous paralegals and administrative staff. In fact, you may only see a lawyer once or twice during your entire case! At QLD Law Group, you'll work with one of our professional personal injury lawyers for the duration of your case. This means that you'll have expert assistance at all times, as well as the assurance and convenience of continuity.
WE'LL NEVER KEEP YOU (OR YOUR CLAIM) WAITING
We understand that personal injury claims are extremely time dependant. Our team will move swiftly to ensure that your claim is kept moving and that all related work is completed in a timely and efficient manner.
WE COME TO YOU
If you can't get to our office, we are more than happy to come to you! We can visit you at your home or workplace during business hours, or during some after-hours time periods.
How The Process Works
Every case is unique, and can take a varying amount of time to reach settlement. In general, cases can take between 18 to 28 months to reach settlement, depending on whether or not a negotiation can be reached without requiring court proceedings.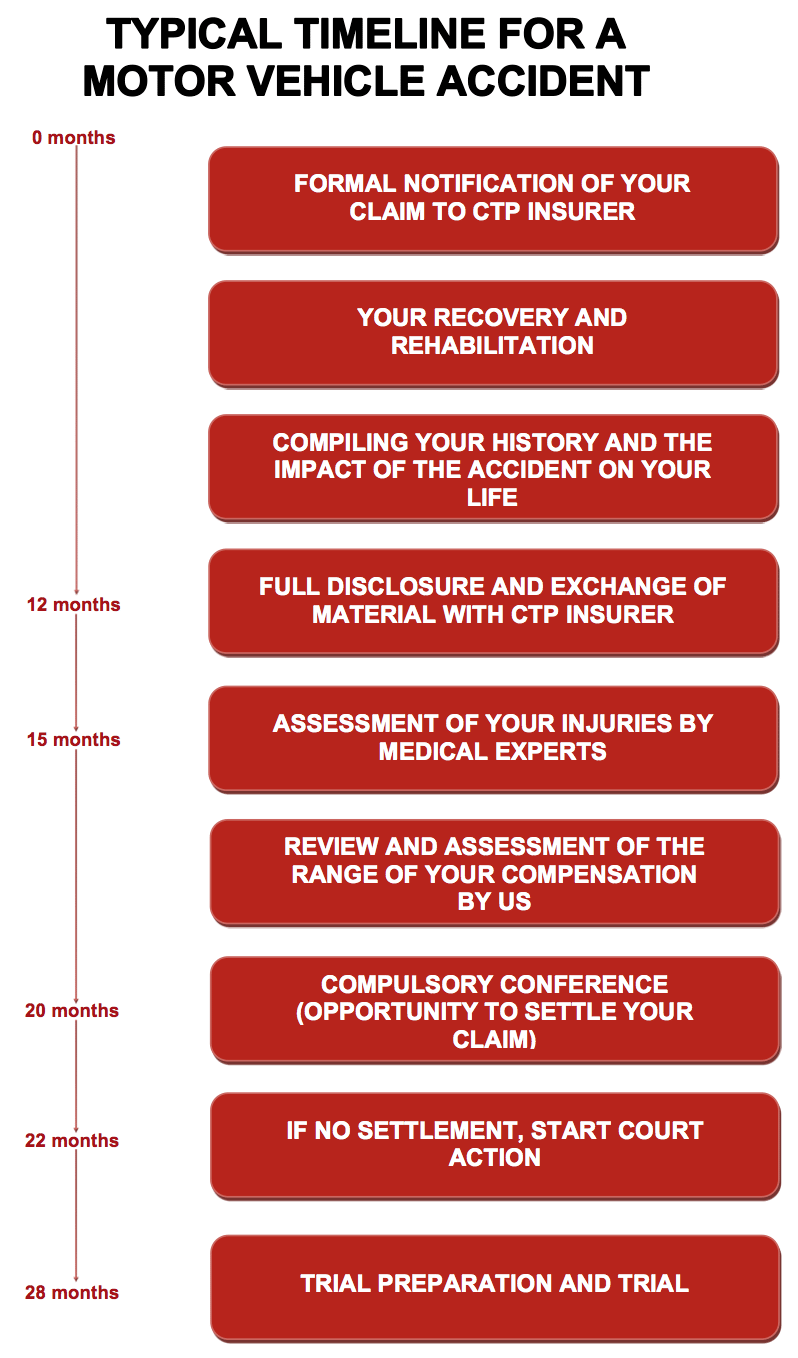 Our team of Personal Injury Law experts will try to keep the claim process as easy and stress-free as possible for you.
We start with an initial meeting to discuss you situation and assess your claim.
We'll lodge your claim with the insurer and check for claim compliance.
We'll start to build your case by gathering all required evidence and investigating the incident further.
We can arrange with insurers to fund any required ongoing rehabilitation.
We will arrange all necessary medical and expert's reports to support your claim.
Negotiation proceedings will take place next, and we'll aim to reach a settlement for you with the insurer.
If court proceedings are required, we'll prepare for this with you.
Once settlement has been reached – whether through negotiation or trial – we'll make sure your payment is processed as quickly as possible.
Our Top 5 Frequently Asked Questions
Does it matter when I make a claim?
Absolutely! There are time limits that apply to all types of
personal injury
cases, which means it's important to lodge your claim as soon as possible.
I am back at work. Does that mean I won't get any compensation?
It's great to hear that you're back at work! The short answer is no, being back at work won't affect how much money you will receive from a successful claim.
Will I be covered for ongoing treatment?
Yes. If you require ongoing treatment as a result of the injuries sustained from an accident, then you can claim for any necessary care or assistance you will require in the future.
I wasn't alone when the accident occurred. Who has a right to make a claim?
Passengers in a motor vehicle accident have the right to seek damages if they were injured as a result of the accident. For example, if you were in a motor accident with your wife or children – even if you were at fault – they have the right to make a claim for their injuries.
Can a minor make a personal injury claim?
Yes, a minor can make a claim. If someone is injured as a result of an accident and they are under 18 years of age when it happened, they have until they are 21 years of age to lodge a claim.
Our Legal Experts, Your Success
Our team are passionate about making a difference. in the lives of clients who have suffered adversity.
Each of our Personal Injury Law experts are experienced, senior lawyers in our firm. They each have a wide experience in different areas of personal injury law, and together they have overseen 1,000s of successful cases.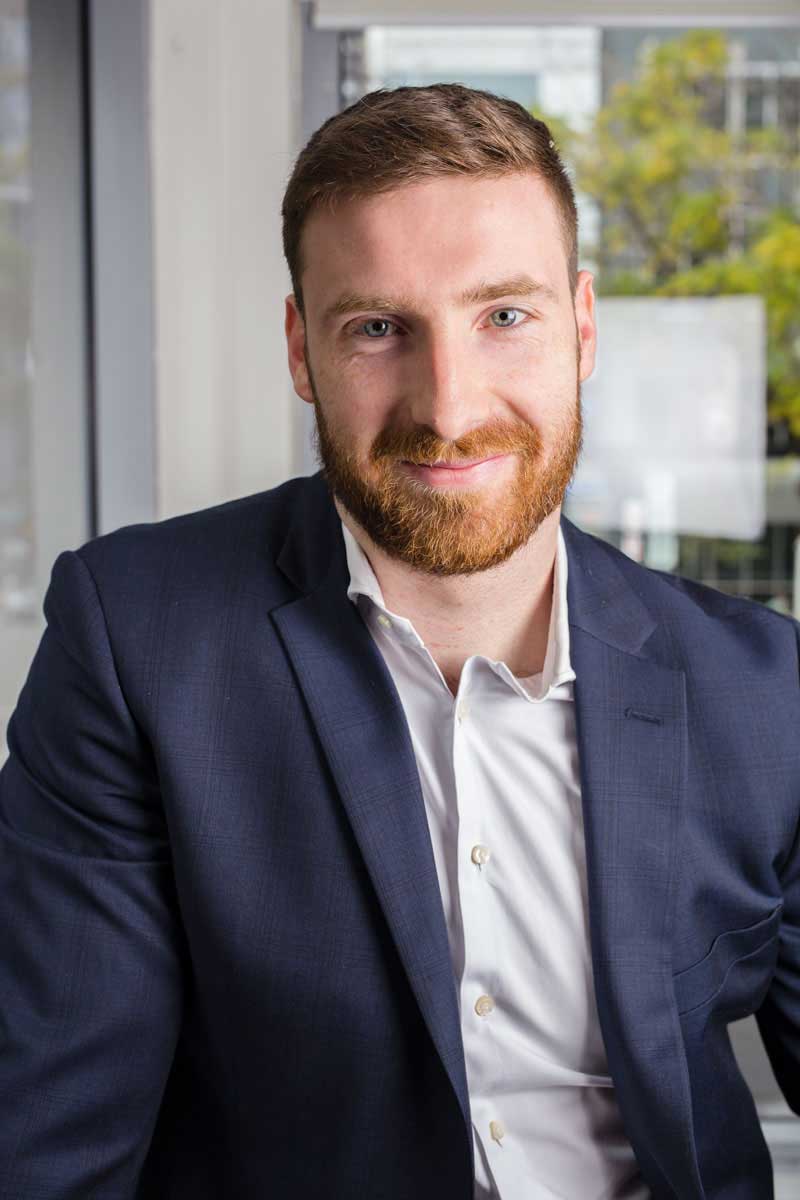 James Tregenza
Areas of Law
Compensation, Litigation and Criminal Law
jamestregenza@qldlawgroup.com.au
James holds a Bachelor of Laws and a Diploma of Legal Practice from the Queensland University of Technology. He is currently studying for his Bachelor of Business majoring in Accounting and Finance. James has been recently admitted as a Solicitor of the Supreme Court, having previously worked as a Law Clerk with the firm […]

Don't Run Out Of Time To Make Your Claim!
Even if you're not sure whether you have an entitlement to claim, we are more than happy to talk through your situation and answer any questions you may have.